Seattle Road Trip, Nov 2017
… aka #RTSeattle!!!
In early November of 2017 the Brothers Hancock™ undertook their greatest adventure yet, a week-long road trip to Seattle! It was my first extended vacation in years, and I am so grateful I had a chance to do it.
My brother Stephen drove every bit of the 4,000 miles to make this trip possible. My friend Cheryl Eager and her family in Washington were wonderful hosts and made me feel like part of the family. And I finally got to meet Stephen's long-time friends Kym and Jaime Clodfelter who took us into their home in Lubbock for the last night on the road. It was such a fun trip, I still can't quite believe it was real. Thank you so much to everyone who helped make it happen.
I took almost no photos on this trip in part to help me stay un-distracted. However, I may have found some ways to make up for it. You be the judge.
Also, I have so many gas stations to show you! OMG!
---
Before the Trip
Jay — photo by me // JD & Leslie — photo by Palermo Pasta House staff // Stephen and Julianne — photos by Leslie
In the days before our trip started, Jay helped out by getting our Honda Pilot oiled, tuned up, and "road ready." Stephen made travel plans to get to Austin, mapped out a route, and prepared a list of emergency items. I documented some new tactics to address any and all possible health issues that we might need to deal with. And Leslie purchased emergency items, snacks, and drinks.
And even though Julianne was preparing for her own trip to Indianapolis for color guard, she still helped me get my stuff organized and ready to go.
---
Day 1: Wednesday, November 8
The Pre-Road Trip Trip
---
Tulsa International Airport – Tulsa, Oklahoma
While the "official" road trip started at my house in Round Rock, Stephen's journey began in Tulsa, which is where he and his wife Kathleen currently live. He decided to fly into Austin to save some driving time.
---
Austin-Bergstrom International Airport – Austin, Texas
11:30am-ish. Stephen arrived in Austin on flight UA4519. Jay and I picked him up at the airport and took him to our house in Round Rock, just north of Austin.
---
O'Connor Drive and N FM 620 – Round Rock, TX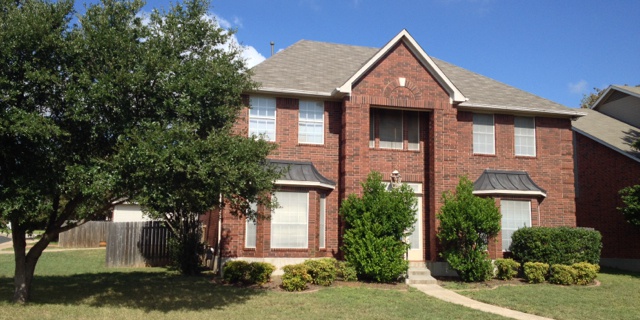 The Hancock House photo by me
12:16pm. When Jay, Stephen, and I arrived at our house, the Pilot was already packed with my clothes, medicines, medical equipment, snacks, fizzy water, Soylent, laptop, etc. Because we had space, we also took my wheelchair, though fortunately I didn't need to use it.
Stephen got to say hello to our Shelties, and then without much ado, we were off!

Justice, Liberty, Promise, and the Sheltie Trio — photos by Leslie
---
From Round Rock to Albuquerque
---
Stripes – Brownwood, Texas
2:53pm. Our first stop was at this Stripes gas station in Brownwood.
---
Stripes – Post, Texas
5:58pm. We refueled at this Stripes/Phillips 66 in Post, Texas. Before long Stephen and I would also be "post-Texas." That's a little joke.
---
McDonald's – Littlefield, Texas
7:26pm. After another stop for gas at a Valero, our first meal on the road was dinner at this McDonald's in Littlefield. For the most part we avoided junk food, believe it or not. Obviously, day one dinner was an exception.
---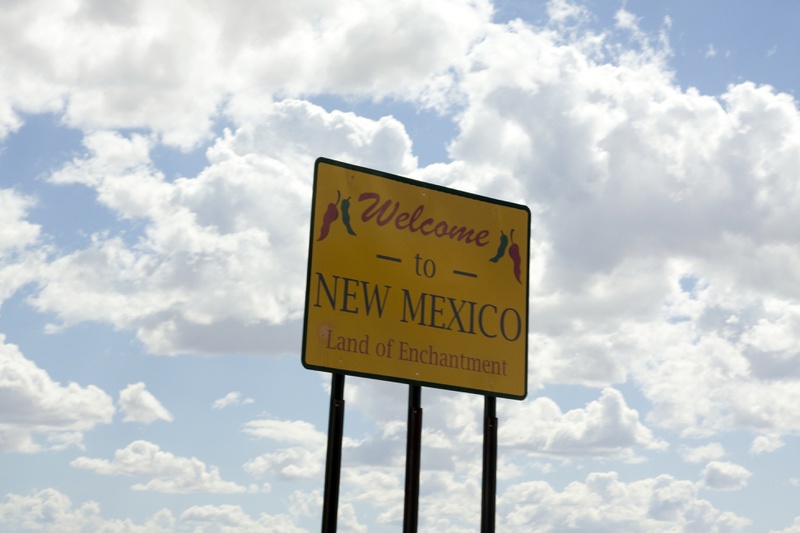 Welcome to New Mexico photo by CGP Grey / CC BY
9pm-ish. Leaving Texas, we crossed the border into New Mexico, the Land of Enchantment.
---
Valero – Fort Sumner, New Mexico
10:09pm. We stopped at this Valero in Fort Sumner.
---
The Hotel Blue – Albuquerque, New Mexico
12:53am. At the end of day one, we rested our weary bodies at The Hotel Blue in Albuquerque. It was not our first choice, but Stephen and I were both pleasantly surprised to discover their super-comfortable beds. I'm glad our first option didn't work out.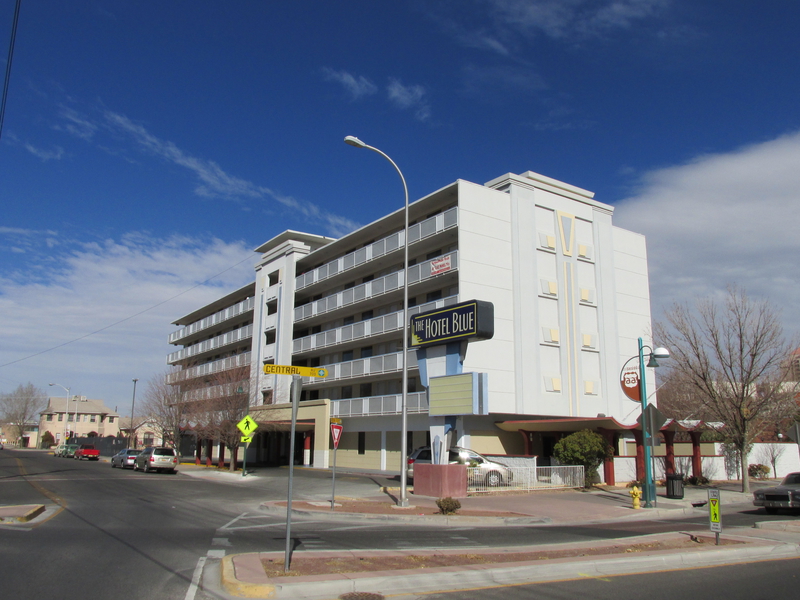 The Hotel Blue, Albuquerque, New Mexico photo by John Phelan / CC BY-SA
---
Day 2: Thursday, November 9
From Albuquerque to Boise
11:59am. Because we arrived at the hotel so late the night before, we slept in on Thursday. Those beds at The Hotel Blue were really comfy! Stephen was pleased that we'd made good time on day one and was confident would do the same on day two. And he was right.
---
Apache Nugget – Cuba, New Mexico
1:39pm. In Cuba, New Mexico we stopped for gas out in the middle of nowhere at this strange-looking gambling place, the Apache Nugget Travel Center Casino. It was here that I corrected my mistake of leaving my hoodie at home and purchased a new one.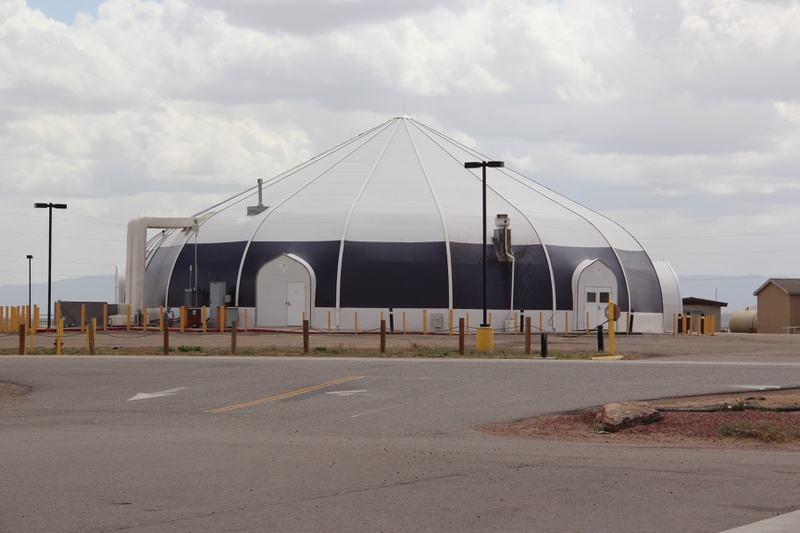 Apache Nugget Travel Center Casino, Cuba, New Mexico photo by Thomson M / CC BY
---
3:15am-ish. We left New Mexico and started a short drive through the southwest corner of Colorado.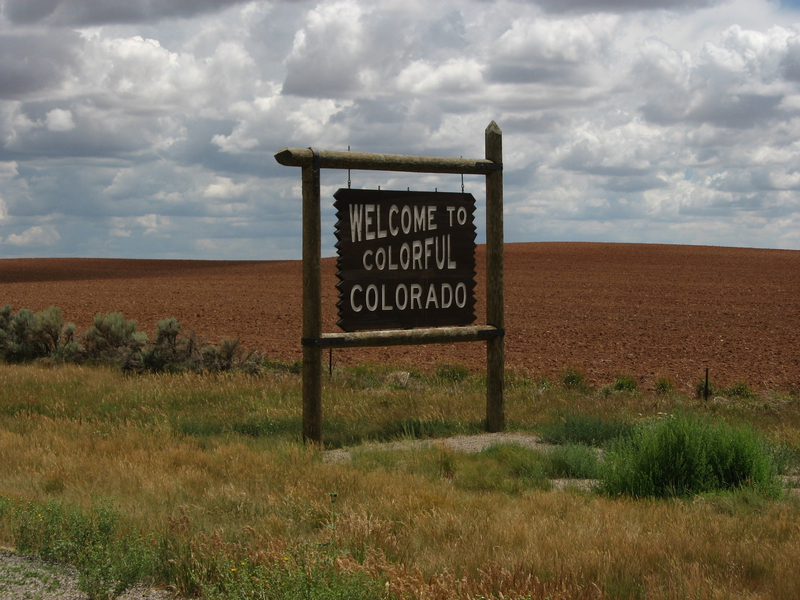 Welcome to Colorful Colorado photo by Ken Lund / CC BY-SA
---
5:00am-ish. Our quick cruise through Colorado ended as we crossed the border into Utah.
---
Chevron – Wellington, Utah
8:30pm-ish. We stopped for gas and refreshments at this Chevron station in Wellington, Utah.
---
Wingers Roadhouse Grill – Price, Utah
8:46pm. Our second dinner on the road was at this Wingers Roadhouse Grill in Price, Utah. We could not believe our luck when the waitress brought a free bowl of popcorn to the table instead of chips or bread. Stephen loves popcorn, so we took it as a good sign for our journey.
---
1:30am-ish. We crossed the border from Utah into Idaho.
---
Shell – Jerome, ID
2:54am. Our first stop in Idaho was at this Shell/Wendy's combo. Stephen suggested we push a couple more hours to Boise since our sleeping options there would be good.
---
Quality Inn – Boise, Idaho
4:47am. The beds at the Quality Inn in Boise were not quite as inviting as those from the previous night, but they were certainly good enough for us. The hotel staff was kind enough to push back our checkout time, so we got in some good sleep hours.
---
Day 3: Friday, November 10
From Boise to Renton
12:21pm. We departed from Quality Inn and began to see the landscape I had imagined would make up the northwest: mountains, tall trees, and a little snow.
---
1:30pm-ish. About an hour into our drive on Friday we crossed the border from Idaho into northeast Oregon.
---
Exxon – La Grande, Oregon
2:47pm. This Exxon was our last gas stop before leaving Oregon. Even in a visually unexciting place like this, the mountains and trees in the background give you a sense of awe.
5:00pm-ish. We finally entered Washington!
---
Quality Inn – Renton, Washington
8:30pm. And then we were in Renton! We decided to stay at this Quality Inn because of its proximity to Eager Estate, but it also turned out to be a pretty nice temporary headquarters for the Brothers Hancock™.
---
9:15pm. Cheryl came to pick me up at the Quality Inn so that I could join her family for Friday dinner. I found her in the lobby in what was a weird and wonderful moment. In the 80's the two of us were classmates in Denton for a couple of years, and we reconnected briefly in our college days, but we hadn't seen each other for 26 years! Fortunately that gulf of time evaporated as she drove us to the Eager Estate to begin our two-person Strickland Junior High mini-reunion.

The Eagers – photos by a helpful stranger
Upon arriving at the Eager Estate I finally got to meet Cheryl's husband Brennan, their two daughters Alyssa and Helen, and their adorable dog Odie. Everyone was super-nice and very generous in allowing me to disrupt their weekend. We all enjoyed a homemade chicken dish for dinner, and then Cheryl showed me some of her old photos and her Strickland Junior High student handbook. I also got to see a piece of artwork from my childhood.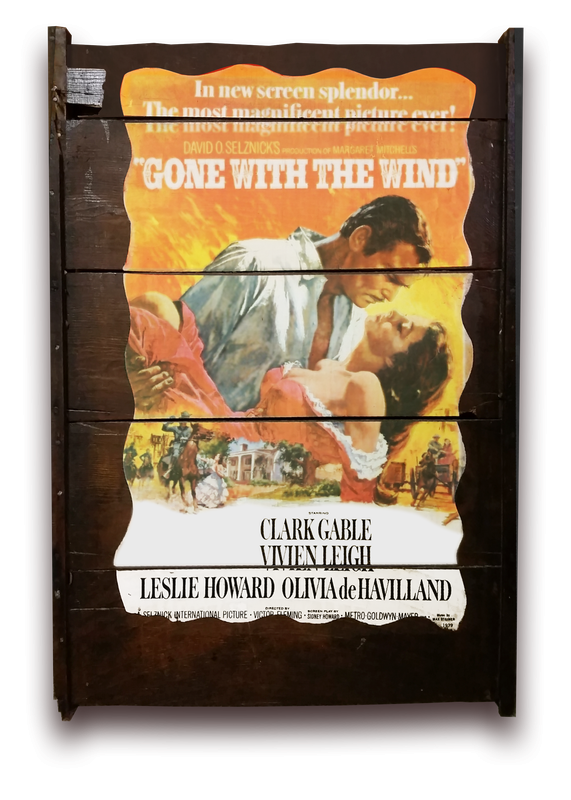 photo by Cheryl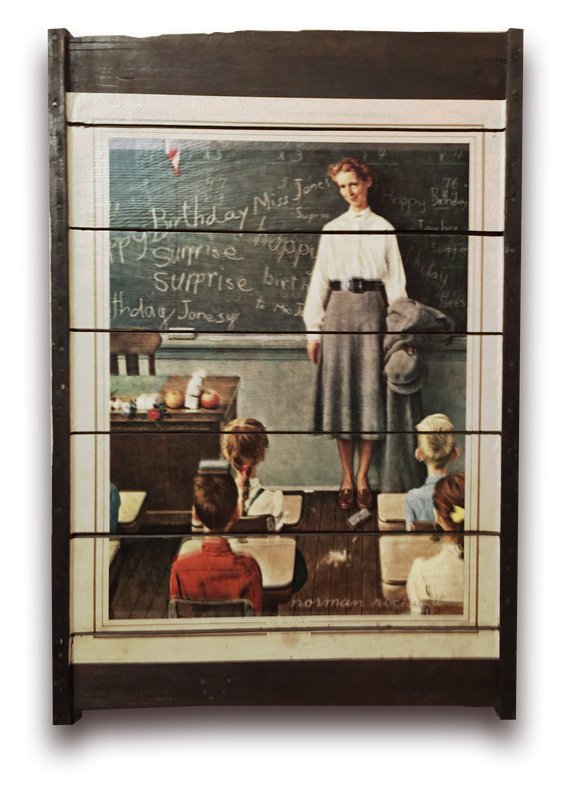 photo by me
In the 80s and early 90s a lot of Grandy's restaurants went through renovations, and as a result some of the interior decor went up for grabs. In 2017 Cheryl and I discovered the strange coincidence that we both had a piece of wood slat artwork from the Denton, TX stores. In 1985 several of Cheryl's friends gave her the Gone with the Wind poster from the Denton Center Grandy's as a going-away present. In the early 90's I took home the Norman Rockwell "Happy Birthday Miss Jones" artwork from the Golden Triangle Mall Grandy's. I was happy to finally see Cheryl's artwork in person, a little piece of Grandy's history retired and residing in the upper northwest.
12:32am. Cheryl drove me back to the hotel for some much-needed sleep and invited me to join the Eagers for breakfast in the morning.
---
Day 4: Saturday, November 11
Eager Estate, Renton, WA
King County Library System Service Center, Issaquah, WA
Archie McPhee, Seattle, WA
Ivar's Salmon House, Seattle, WA
Fremont Troll, Seattle, WA
Michaels, Tukwila, WA
Saturday was all about talkin', tourin', and trollin'.
---
Eager Estate in Renton
10:44am. On Saturday Cheryl again drove me from the hotel to the Eager Estate where I had two yummy meals with the Eagers. We had cinnamon rolls for breakfast and microwaved pizza for lunch (a lunch meal I often enjoy at home). Cheryl and I talked and talked about all sort of things and kinda halfway watched the movie Sully in the living room. I also put in some good bonding time with Odie, one of the most lovable animals I have ever met.

Odie — photos by me
---
KCLS Service Center in Issaquah
4:22pm. Brennan dropped Cheryl and I off at Cheryl's workplace, the King County Library System Service Center in Issaquah, and it's an impressive place! The KCLS is the busiest library system in the United States1 with 49 libraries sharing over 20 million items a year.2 Cheryl gave me the grand tour of the service center including a room filled with huge movable shelves, a large office area with spacious cubicles, and the vehicle loading area.
While we were walking around I spotted a Neil Gaiman book and asked Cheryl about it. Our exchange put an idea in her head for Sunday.
Room 111, or "The Mendery," is the most interesting place in the service center. It's where master bookbinder Donald Vass practices the archaic craft of book repair using primitive and vintage tools: brushes, glue, needles, thread, screw presses, and more.
Vass and the Mendery were the subject of a short documentary film in 2016. They have also been featured on public radio station KNKX, on Seattle television station KOMO News, and in The New York Times.
On his desk is a great quote from one of the countless books he's repaired over the years.3
"Whatever struggle you have met, find its meaning and it will cease to be a struggle."
---
Archie McPhee
Archie McFee – Seattle, Washington
On the way to dinner Brennan gave me a quick driving tour of parts of Seattle. I got to see the real brick-and-mortar Archie McPhee store, which I'd only ever experienced online at www.archiemcphee.com. He would show me more Seattle sites on Sunday.
---
Ivar's Salmon House in Seattle
Ivar's Salmon House – Seattle, Washington
7:16pm. For dinner Saturday night the Eagers took me to Ivar's Salmon House, a fancy seafood restaurant that's been around since 1970, just like me! The salmon-focused location where we ate is part of popular local chain of seafood restaurants and walk-up seafood bars. The restaurant interior is gorgeous, like a mega-refurbished longhouse, and the Northwest native decor was really interesting, especially to a Texan who doesn't get out much these days. And luckily we sat at a table with a great view of Lake Union and the Seattle skyline.
---
Fremont Troll in Seattle
Fremont Troll – Seattle, Washington
9:00am-ish. After dinner we continued our tour of Seattle sights which included the Fremont Troll, a large concrete sculpture of a troll holding a real Volkswagen Beetle under the George Washington Memorial Bridge.
---
Michaels in Tukwila
Michaels – Tukwila, Washington
9:30am-ish. We stopped at a Michaels in Tukwila on the way home so Helen could pick up some Sculpey clay for a class project.

Helen class project — photos by Cheryl
I got to see some of this project as it was being created by Helen. The suggestion to use Sculpey clay was mine based on years of experience watching Leslie create figures out of it.
---
12:33am. After the busy day was over, Cheryl drove me back to Quality Inn. She again invited me to have breakfast with her family the next morning, but unfortunately my health issues would throw a wrench into those plans.
---
Day 5: Sunday, November 12
I woke up Sunday morning with a migraine, so I took some medicine and missed out on breakfast with the Eagers. Arg! But fortunately I was able to join them afterwards.
---
Kerry Park
Kerry Park – Seattle, Washington
12:00-ish. On the way to the theater Brennan took a detour to Kerry Park where Cheryl showed me the "Frasier spot," the approximate location from which Seattle could be seen through the fictional apartment window of Frasier Crane, the character from Cheers and Frasier. We even had a random stranger offer to take our photo! Seattle people are so nice.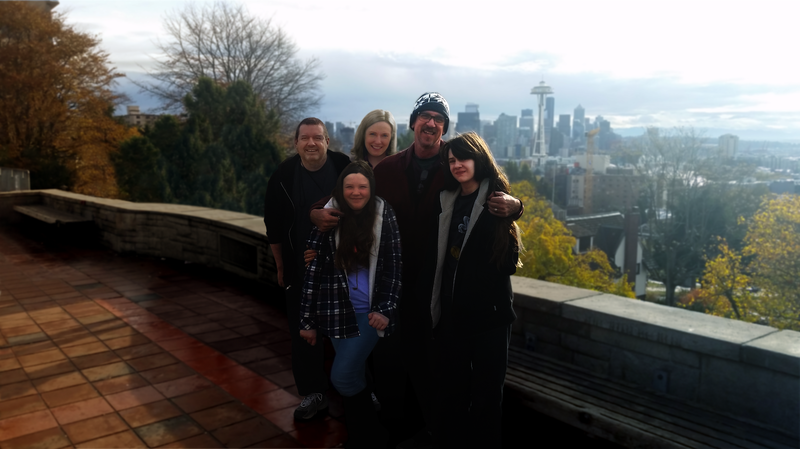 The Eagers & Me at Kerry Park photo by stranger
---
Cinerama
Cinerama – Seattle, Washington
As luck would have it, the weekend I was in Seattle was a week after Thor: Ragnarok had been released, so Cheryl thoughtfully planned a trip to the Cinerama movie theater so we could all watch the latest Marvel movie together.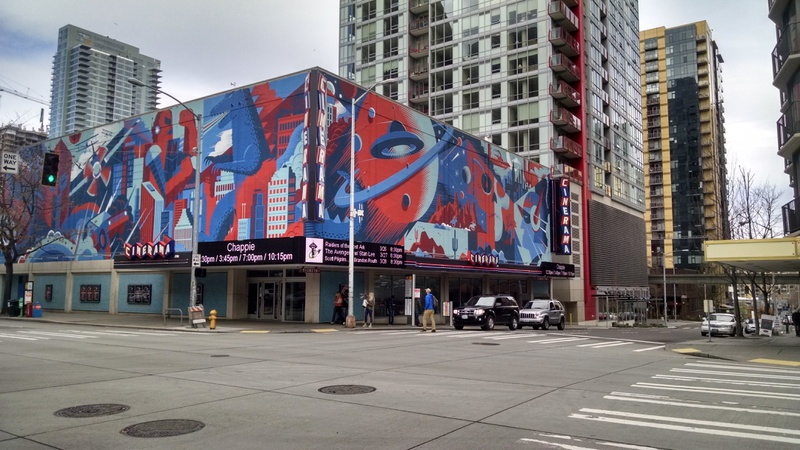 Cinerama photo by PROGord Webster / CC BY
Marvel did an amazing job with the poster for the third Thor movie. It's so much more eye-catching than previous Thor posters.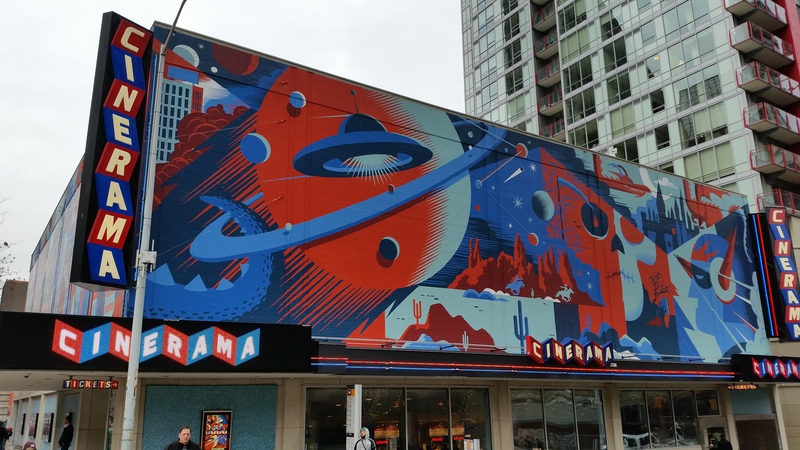 Cinerama Exterior photo by Martin Criminale.jpg / CC BY
It sounds cheesy, but the ambiance of Cinerama really is a delight. It's designed to be a movie fanatic's theater, similar to the Alamo Drafthouse chain, and though it lacks an eat-while-you-watch service, the picture quality and sound were the best I've experienced in a long time.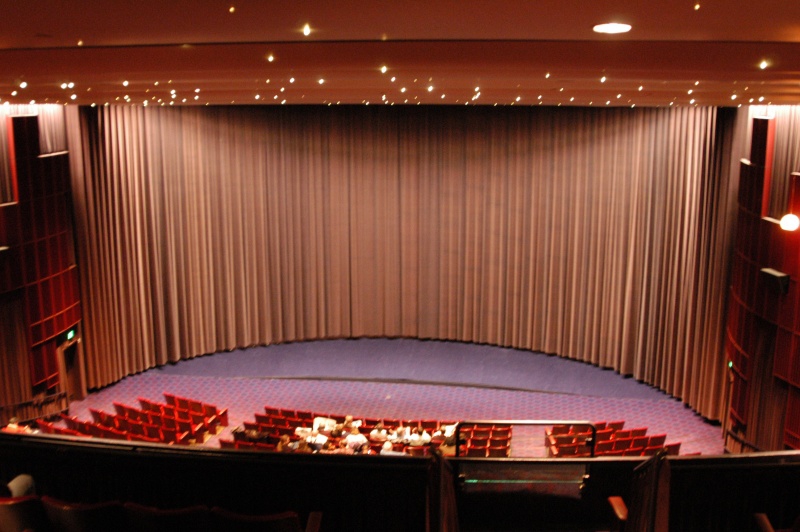 Cinerama Screen photo by Andrew Hitchcock / CC BY
12:58pm. The Eagers and I arrived about a half-hour early, grabbed some snacks, and made our way to seats F12-F17.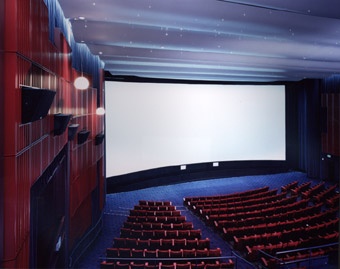 Cinerama Screen // photo by Cinerama / CC BY-SA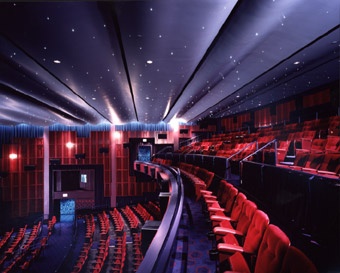 Cinerama Balcony // photo by Cinerama / CC BY-SA
Everyone had a good time watching Thor's adventures. The Marvel movies are becoming an artful balance of family fun and fandom.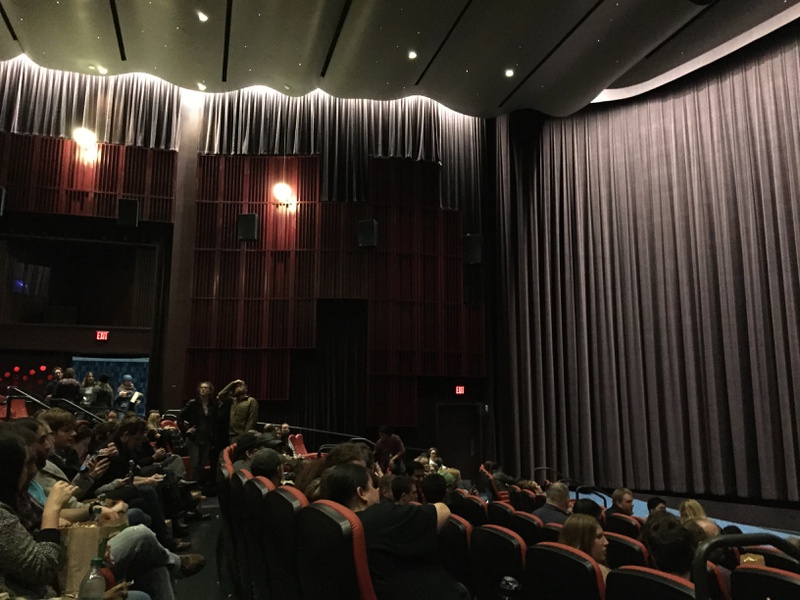 Cinerama Reopening photo by Jeff Wilcox / CC BY
---
I-90 Floating Bridge – Seattle, Washington
2:00pm-ish. Brennan took a special route back to Eager Estate to show me the I-90 floating bridges that span Lake Washington from Seattle to Mercer Island. Having never seen a floating bridge, I was glad to get the opportunity to ride across one.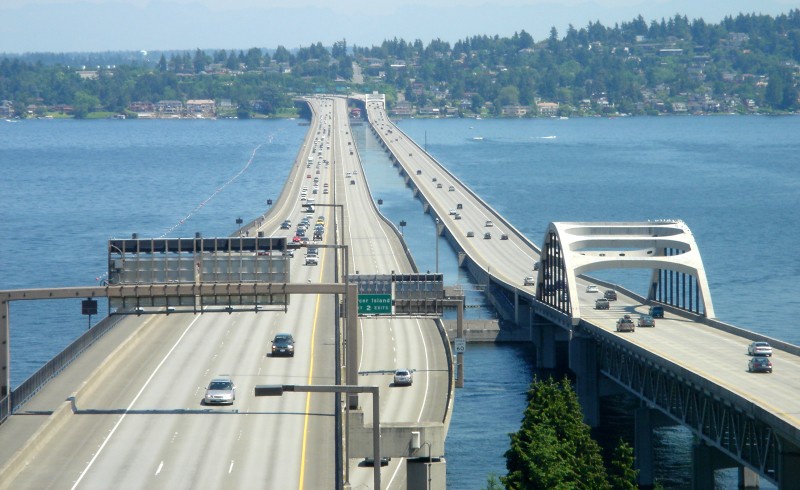 Interstate 90 Floating Bridges photo by Tradnor / CC BY-SA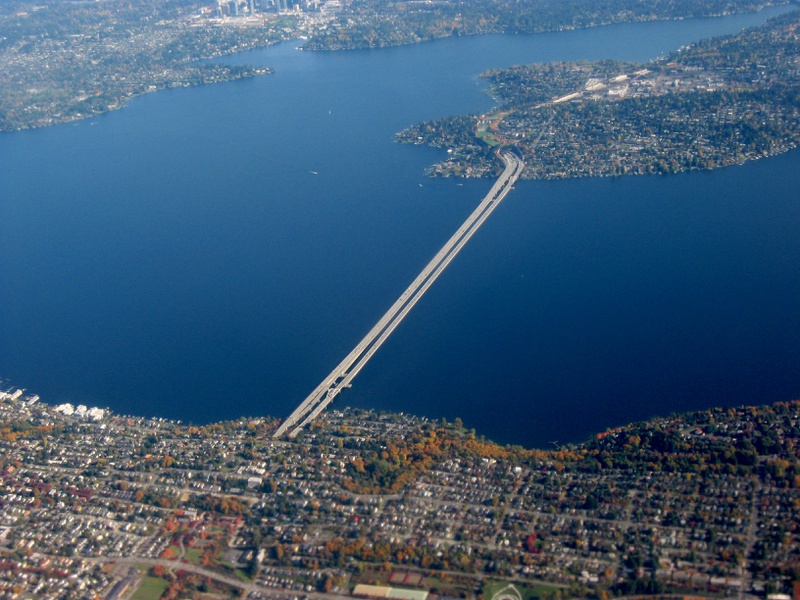 I-90 Floating Bridges across Lake Washington photo by Dcoetzee / Public Domain
---
4:00pm-ish. We returned to Eager Estate where we sat in the living room and watched the movie Coraline, which I had never seen. Cheryl remembered that I like Neil Gaiman, and Coraline is one of her favorites, so it was a win-win.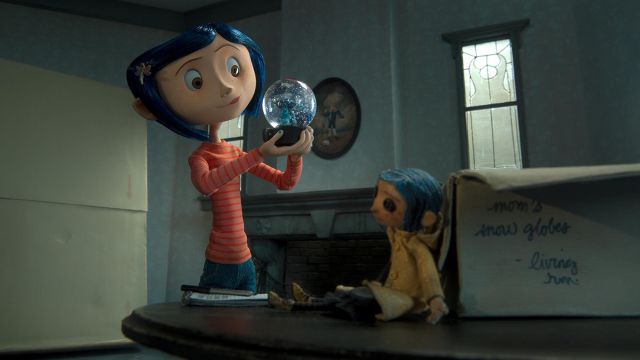 Coraline screenshot © Laika, LLC / Fair Use
7:30pm. I said my good-byes to Cheryl's gracious family, and then Cheryl kindly deposited me back at Quality Inn for the last time, marking the end of our two-person Strickland Junior High mini-reunion.
---
8:28pm. The Brothers Hancock™ gathered our travel gear, departed our temporary headquarters, and hit the open road once again.
---
From Renton to Cle Elum
---
Crescent Market – Snoqualmie, Washington
9:33pm. We stopped at a convenience store in Snoqualmie called "Crescent Market." This was the first place of note that I couldn't find later using Google Street View. The latest imagery Google has for this spot is August 2008.
While inside the store this man approached Stephen for a chat, which is not surprising to anyone who's spent time with Stephen in public. It turns out this particular person is a cane designer. He gave Stephen a business card and said, "Share this with your friend," because no one ever assumes Stephen and I are related. I know my cane is plain-looking, but I like it because it's collapsible. When it comes to mobility assistance I guess I'm a function-over-fashion kinda guy.
I was surprised to learn that this store is owned and operated by the Snoqualmie Tribe. According to this video the Crescent Market opened its doors only a few months before we pulled in to fill up our tanks.
---
Taco Bell – Cle Elum, Washington
10:53pm. And when we stopped for dinner at Taco Bell (our second "junk food feast" of the trip), Stephen was once again drawn into conversation with a stranger. This time around a friendly Taco Bell cashier entertained us with his life story as we munched down our meal.
---
Day 6: Monday, November 13
From Cle Elum to Albuquerque
On this leg of our journey, starting from Renton on Day 5, Stephen never stopped to sleep, because he is crazy. He likes to say he's "very focused."
---
Pilot Travel Center – Stanfield, Oregon
2:29am. We gassed up the Honda Pilot at this Pilot Travel Center.
---
Dairy Queen – La Grande, Oregon
3:44am. DQ frozen treats FTW! Actually, I may have only dreamed we stopped here. I slept a lot on the sixth day.
---
Shell Service Station – Eden, Idaho
08:15am. The message sign at this Shell station in Eden, ID was fun to watch.
---
Tesoro – Helper, UT
12:37pm. To be fair, I did warn you that you'd be seeing a lot of gas stations, like this one in Tesoro, Helper, UT.
---
Red Mesa Express – Nageezi, NM
6:59am. Pay no attention to the "©2014 Google" text flying around in the sky.
---
Quality Inn – Albuquerque, New Mexico
7:14am. After a very long trek with no sleep, Stephen decided to stop and rest at a Quality Inn in Albuquerque. Because I was having trouble walking, he went to the nearest restaurant, a McDonald's, and procured our third and final junk food meal. And then the Brothers Hancock™ zonked out.
---
Day 7: Tuesday, November 14
From Albuquerque to Lubbock
12:30pm-ish. As we headed out on our seventh day, Stephen was hopeful that we might be able to stop and visit with his friends the Clodfelters in Lubbock.
---
Rodeo Grill – Fort Sumner, New Mexico
3:00pm-ish We stopped for lunch at the Rodeo Grill in Fort Sumner based in part on good Yelp reviews, and the place didn't disappoint. We were happy to get a good meal and a break from the road.
I like how Google Street View gives the impression that the Rodeo Grill is at a crazy angle.
---
Allsups – Clovis, New Mexico
4:00pm-ish. We fueled up at an Allsups in Clovis, New Mexico, our last stop before Lubbock.
---
Road to Casa Clodfelter – Lubbock, Texas
5:39pm. With still some daylight left we pulled up to Casa Clodfelter, and after a couple of decades I finally met Stephen's friends Kym and Jaime Clodfelter. They opened their house to us, prepared a delicious dinner, and let us rest our weary bones for the night.
I also found another furry friend. OMG! Look at that face!

Clodfelter Dog — photos by me
---
Day 8: Wednesday, November 15
2017-11-15 10:17am to 10:29am Texaco in Goldthwaite, TX 2017-11-15 12:03pm JD's Home in Round Rock
From Lubbock to Round Rock
---
Texaco – Goldthwaite, Texas
10:17am. This Texaco in Goldthwaite turned out to be our last gas station. We shelled out $30.52 for the fuel that would take us the rest of the way.
Next stop … the Hancock House!
---
Road to the Hancock House – Round Rock, Texas
12:03pm. Home again, home again, jiggity-jig!
---
The Post-Road Trip Trip
Stephen easily made it back to the airport in plenty of time for his 4:00pm flight back to Tulsa. Yay!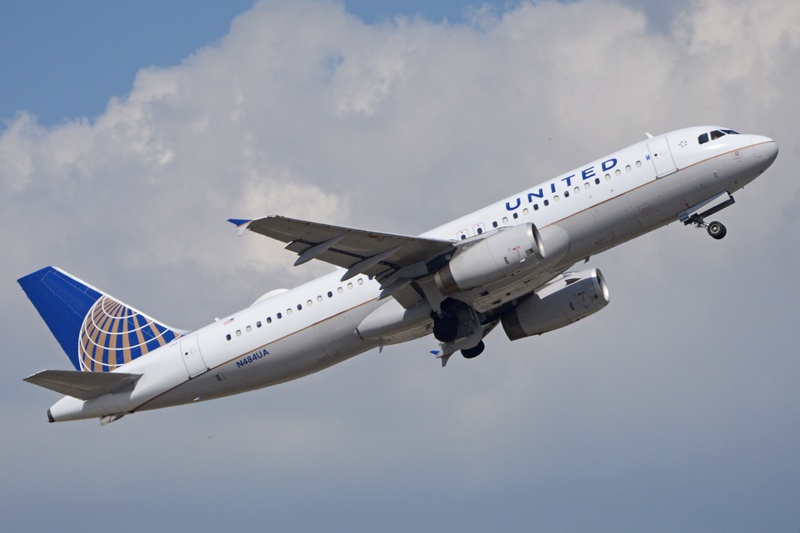 Bye-Bye Uncle Stephen! image by Alan Wilson / CC BY-SA
Leslie pointed out that during the trip the kids and I were geographically separated further apart than we'd ever been.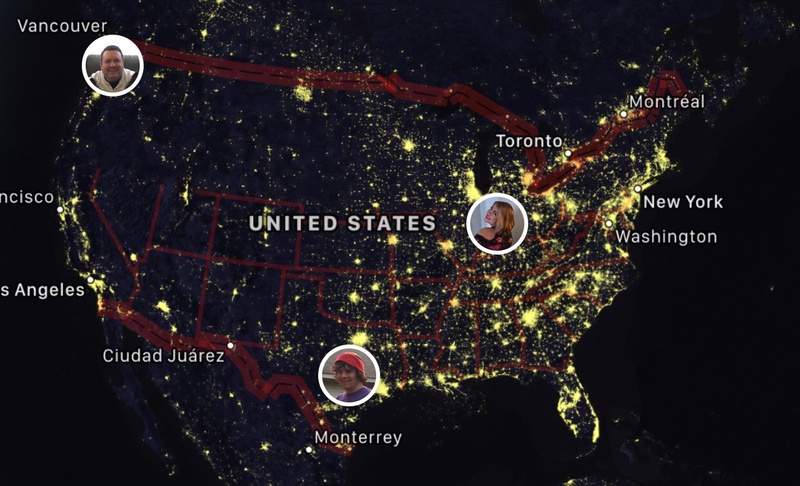 Hancock USA image by Leslie
---
The End
If you made it all the way through, congratulations! Thank you for your interest.
Again, thanks to everyone who helped make this trip happen, including Leslie, Jay, Julianne, Stephen, the Eagers, and the Clodfelters. I love you all!
Questions? Suggestions? Corrections? Palpitations? Let me know.
---
Footnotes
Do you have a question about any of this stuff?
Ask me.